Location
The Grand Hotel Punta del Este is located on the beach overlooking the Atlantic Ocean, surrounded by more than 20 kilometers of beaches and convenient to attractions like Puerto de Punta del Este, Museo Ralli and vibrant shopping, nightlife of the city's bustling main thoroughfare, Avenida Gorlero.
Recognized as one of the most important resort destinations in Latin America, Punta del Este is located an hour and a half from Montevideo, the capital of Uruguay. Among its famous beaches are Playa Mansa and Brava and the islands of Gorriti and Island of Sealions.
The diversity of landscapes and natural attractions makes Punta del Este an ideal destination for sports such as surfing, windsurfing, sailing, yachting and fishing.
The Grand Hotel Punta del Este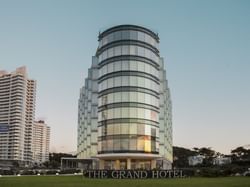 Our beachfront property is in Punta del Este and features well-appointed accommodations and resort style amenities. Book a stay Grand Hotel Punta del Este!
Casapueblo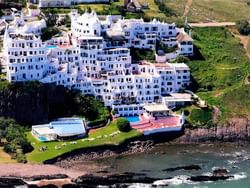 Casapueblo was the former summer residence of the Uruguayan artist Carlos Paez Vilaro and now a citadel sculpture that includes a museum, art gallery and a hotel called Hotel Casapueblo.
See details
Puerto De Punta Del Este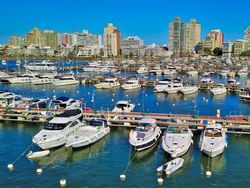 Discovered on February 2, 1516, by Juan Díaz de Solis, the port accommodates medium depth tourism, sport and fishing boats.

See details
Faro De Punta Del Este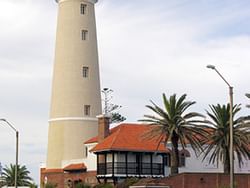 ​Completed on November 17, 1860, by Thomas Libarena to guide the navigation of the Atlantic Ocean and the Río de la Plata, this lighthouse is 45 metres tall with crystal prisms and lighting systems ​imported from France.
See details
Fundación Pablo Atchugarry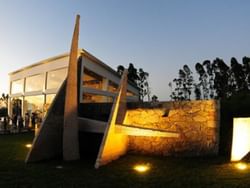 The Pablo Atchugarry Foundation offers the ideal union between nature and art,
a destination where the singing of birds accompanies visitors as they stroll along
​lakes and rolling countryside featuring sculptures and other art forms.
See details
Museo Ralli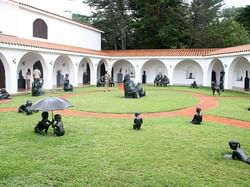 The museum is located in the Beverly Hills residential neighborhood, surrounded by a beautiful natural environment.
See details
Arboretum Lussich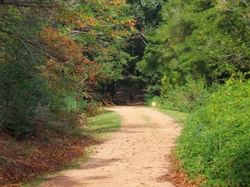 On 1896, Antonio Lussich bought 4,448 acres of land in the Sierra de la Ballena and planted trees and plants from all regions of the world.
See details
Avenida Gorlero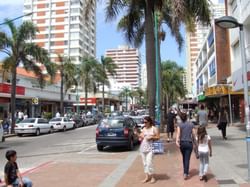 The main avenue of the peninsula offers an interesting and varied shopping experience complemented by exchange houses, casinos, cinemas, art galleries, cafes and pubs.
See details
Los Dedos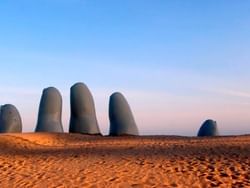 Part of "The Paseo of Las Americas", Los Dedos is a sculpture result of an international competition held in 1986. It is a typical place in Punta del Este for taking photos.
See details